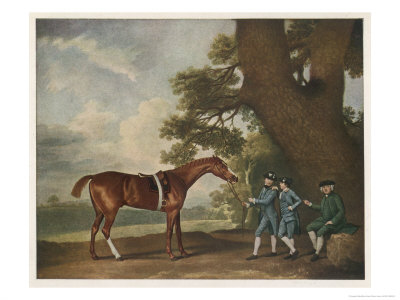 Eclipse with Mr.Wildman & His Sons
by George Stubbs
Buy this print at Art.com

Horse of the Year 2012
Who do you think should be named Horse of the Year for 2012?
2012 Eclipse Award Finalists
Date: 01/05/2012

The National Thoroughbred Racing Association (NTRA), National Turf Writers Association (NTWA) and Daily Racing Form (DRF) have announced the finalists for the 2012 Eclipse Awards, voted on and presented by the three organizations in recognition of excellence in Thoroughbred racing. The Eclipse Awards are named after the great 18th-century racehorse and sire Eclipse, who began racing at age five and was undefeated in 18 starts, including eight walkovers. Eclipse sired the winners of 344 races, including three Epsom Derbies.

Winners in all categories will be announced at the 42nd annual Eclipse Awards ceremony, to be held Saturday evening, January 19 at the Gulfstream Park in Hallandale Beach, Florida. The three finalists for Horse of the Year are Fort Larned, I'll Have Another, and Wise Dane and that award will be presented at the conclusion of the Eclipse Awards ceremony.

Of the 272 eligible voters representing the NTRA, Daily Racing Form, and the NTWAB, 254 individuals (93.38%) took part in this year's voting. Finalists were determined in each category by voters' top three selections, using a 10-5-1 point system. Eclipse Award winners are determined solely by first place votes.

The Media Eclipse Awards have already been announced and the winners can be viewed here:

Fort Larned, winner of the Breeders' Cup Classic, is one of the Horse of the Year finalists.

I'll Have Another, winner of the Kentucky Derby and Preakness, is another of the Horse of the Year finalists.

Wise Dan, winner of the Breeders' Cup Mile, is the final Horse of the Year finalist.

Below are all the finalists in alphabetical order with a link to a profile or bio for each finalist with stats. More stats and lifetime past performances for all the finalists are available from Daily Racing Form.

Horse of the Year: Fort Larned, I'll Have Another, Wise Dan

Two-Year-Old Male: Shanghai Bobby, Uncaptured, Violence

Two-Year-Old Filly: Beholder, Dreaming of Julia, Executiveprivilege

Three-Year-Old Male: Bodemeister, I'll Have Another, Union Rags

Three-Year-Old Filly: Believe You Can, My Miss Aurelia, Questing

Older Male: Fort Larned, Little Mike, Wise Dan

Older Female: Groupie Doll, Include Me Out, Royal Delta

Male Sprinter: The Lumber Guy, Shackleford, Trinniberg

Female Sprinter: Contested, Groupie Doll, Mizdirection

Male Turf Horse: Little Mike, Point of Entry, Wise Dan

Female Turf Horse: Marketing Mix, Tapitsfly, Zagora

Steeplechase Horse: Demonstrative, Divine Fortune, Pierrot Lunaire

Owner: Godolphin Racing LLC, Midwest Thoroughbreds, Inc., Reddam Racing LLC

Breeder: Adena Springs, Darley, Brereton C. Jones

Trainer: Bob Baffert, Todd Pletcher, Dale Romans

Jockey: Javier Castellano, Ramon Dominguez, John Velazquez

Apprentice Jockey: Jose Montano, Irad Ortiz Jr., Angel Suarez

Eclipse Awards official site - includes a poll and past performances for likely horse of the year contenders

Back to Horse-Races.Net main page


©1994-2022, Cindy Pierson Dulay Privacy Policy About Us Search Site Map Add a Link Advertisee Suggest to a friend RSS Feed Follow on Twitter